7 Tips for Cycling Safely on the Road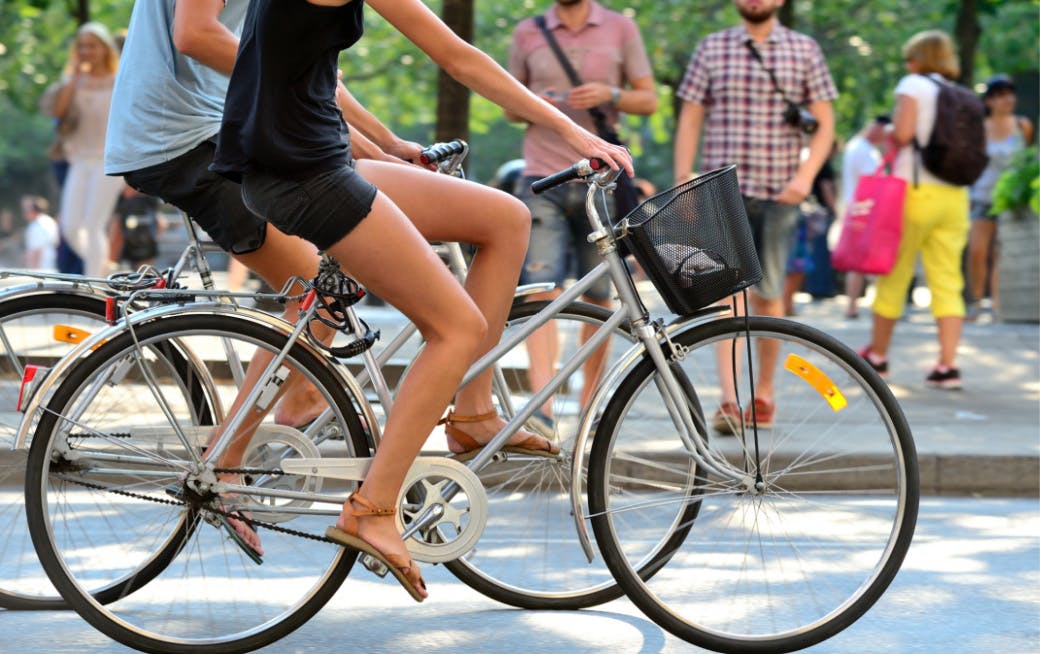 Over the past few years, an increasing number of Americans have taken up bicycling. Whether for exercise, environmental reasons, or just the fun of it, more and more cyclists are heading out onto the road right alongside cars and other vehicles. That's a great trend, but it does bring with it a fresh set of risks.
As you would expect, in the event of an accident involving a car and a bicycle, the cyclist is much more likely to be injured.
It would be great if we could tell you that cyclists only need to do their part and trust drivers to do theirs, but unfortunately we've learned from too many cases here that it's not true. As a cyclist, you'll need to be all the more vigilant and cautious to avoid an accident, whether there's a vehicle involved or not.
Here are some tips to help keep you safe when you pull out your bike to hit the road this spring, summer, fall … and for some hardy Minnesotans, winter too!
1. Choose the right bike.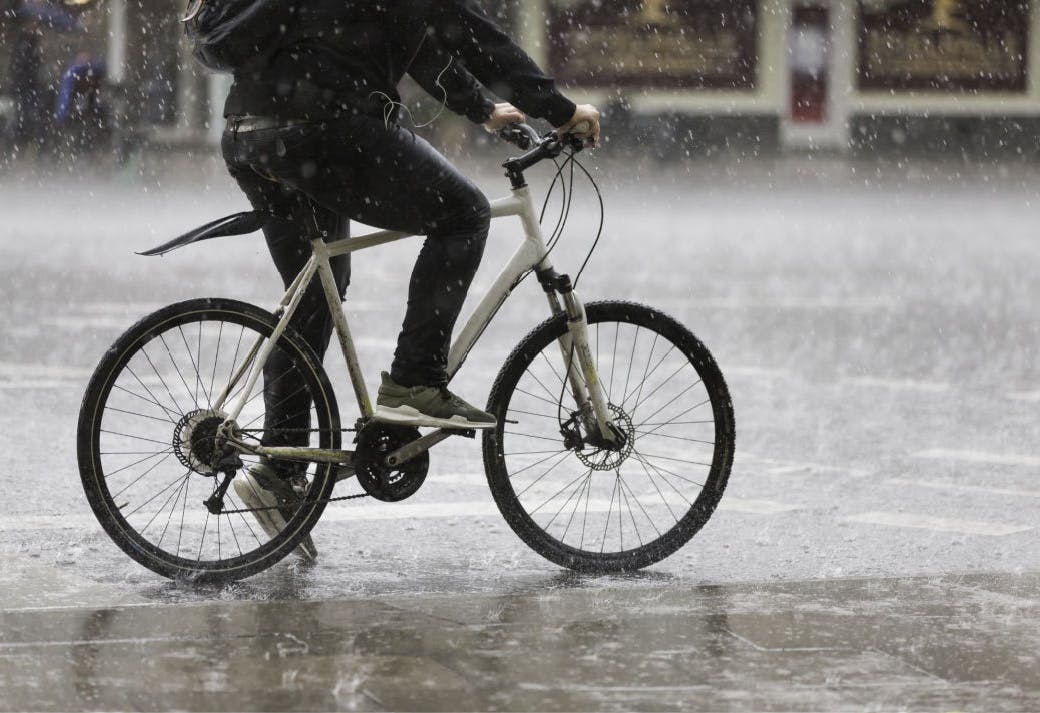 Riding a bike that's too small or too big will make it much harder to control your bike and cycle safely. It's not just a matter of adjusting the seat, either. The size of the frame has to be right.
To test the size, straddle the bike, standing flat-footed over the top tube. There should be around 3cm-5cm between the top tube and your groin. Better still, ask a knowledgeable bicycle mechanic to help you find just the right size.
2. Plan ahead.
Plan your riding schedule ahead of time. Whenever possible, ride during the day. If you must ride at night or in low visibility, make sure you have reflectors and lights. (A white front light and red rear light is best.)
Plot your route out, too. Choose roads with less traffic, or at least avoid peak traffic times. Steer clear of narrow streets or speed limits that exceed 35 mph.
If possible, skip the road entirely and take a bike path or other route without any cars.
3. Inspect your bike.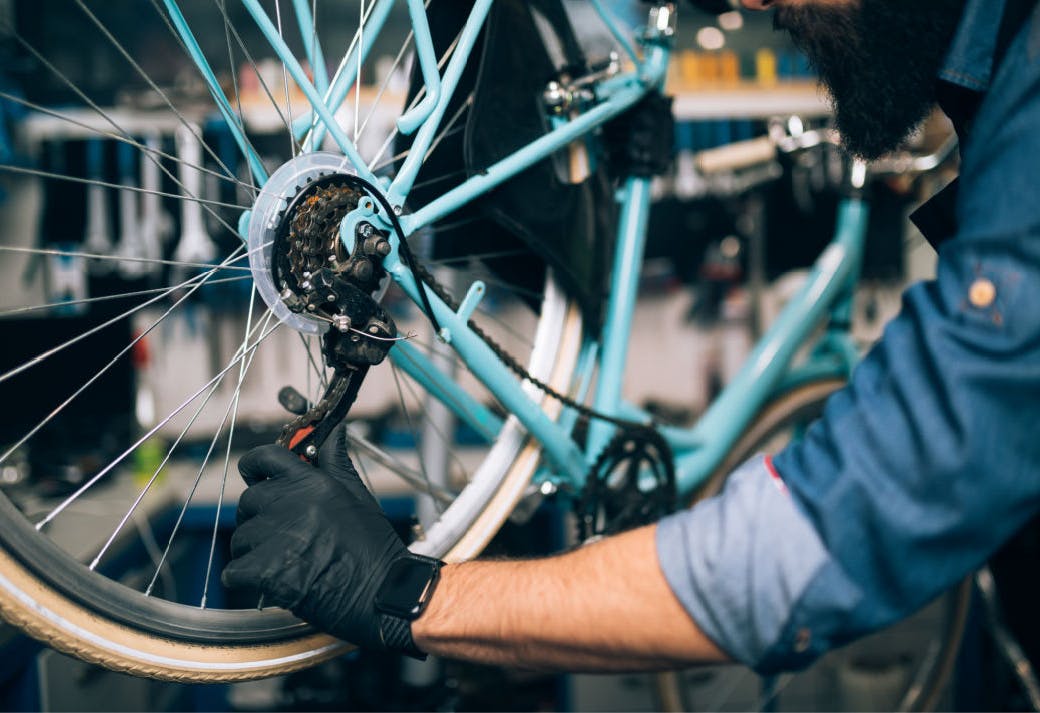 Always inspect your bike before taking it out for a spin. Here's a handy checklist:
Make sure the seat is adjusted to the right height and locked in place
Check for loose nuts or bolts, and tighten any if necessary
Verify that the tires are inflated to the right pressure
Check to be sure your brakes are working
Make sure the chain is clean and lubricated
Note: You should never go over the maximum tire pressure listed on the tires' sidewalls, especially in the summer. Heat will make the air inside the tire expand, and this could cause a blowout.
4. Suit up for safety.
Whenever you go cycling, you should always wear:
A helmet that fits (this single piece of apparel can reduce your risk of serious injury by as much as 85%)
Neon, fluorescent, reflective, or other bright clothing to make you more visible to others (there's a reason veteran bikers wear those brightly colored jerseys)
Padding
Eye protection (sunglasses if in bright sunlight)
Gloves
Appropriate shoes
Bonus tip: make sure to tuck tie your laces into your shoes so they don't get caught in your bike chain.
5. Pay attention.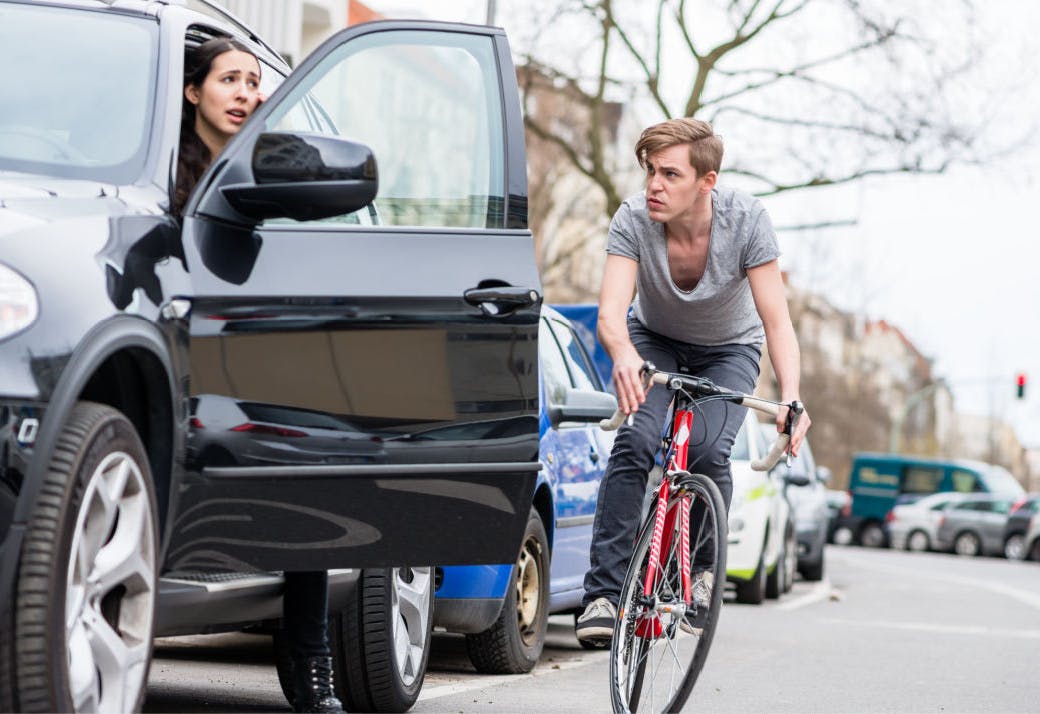 Once your bike is good to go and you're all suited up, get focused. No matter where you're riding, be aware of your surroundings, and never let yourself become distracted or complacent.
Keep your eyes on the road ahead of you, not on the ground. Look out for, uneven, rough surfaces that could cause you to lose your balance, and watch for debris that could trip you up, such as:
Gravel
Potholes
Grates
Train tracks
Litter
Slippery surfaces are also a hazard. Slow down or walk your bike across any wet areas.
Skip the headphones, too. Music and podcasts are great, but when you're on your bike, you need to hear what's happening around you at all times.
Even if you have the right-of-way at intersections or when making a turn in traffic, always catch the eye of drivers to be sure they see you. The same holds true when passing parked cars; Watch for drivers or passengers who may suddenly open a door in front of you.
Above all, don't assume everyone else is being as alert as they should be. You never know when a driver, pedestrian, or fellow cyclist will be distracted or careless. Assume you have to be everyone else's eyes and ears for them.
This is defensive cycling—always be on alert and ready to react to danger.
6. Obey the law and make safe choices.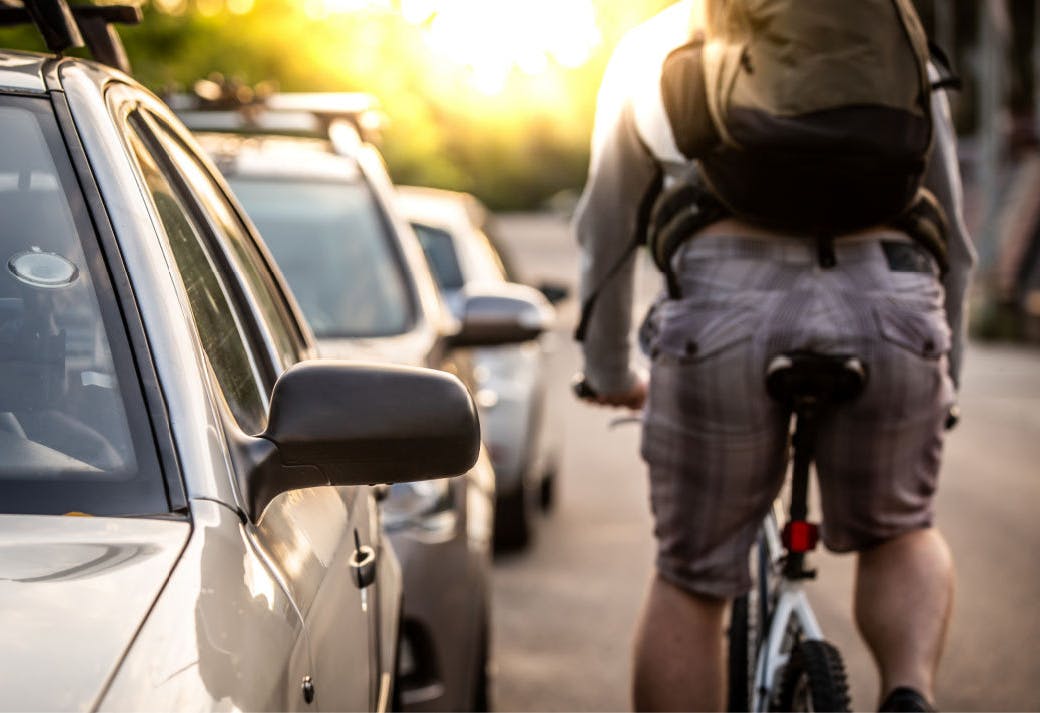 By law, bicycles on the roadway must follow the same rules as motorists. That means:
Always ride on the right side of the road, in the same direction as traffic
Obey road markings, street signs, traffic lights, and speed limits, just as you would in a car
Use hand signals to warn cars and other cyclists of your stops, turns, and lane changes
Keep both hands on the handlebars except when signaling
Don't use a phone or any other distraction that takes your eyes—or mind—off of the road
Before entering traffic, always stop and look left, right, and left again, then once over your shoulder
7. Improve your cycling skills.
It takes time to learn to drive any vehicle safely, and bicycles are no exception. If you're inexperienced, start by riding your bike in a safe environment away from traffic. Bike paths, empty parking lots, and public parks are great for this.
You can usually take a cycling class through your local bike shop, school, or nearby cycling clubs, too.
Happy cycling!
Riding your bike in traffic does present some unique risks, but with the proper precautions, you should be able to minimize the danger.
However, if you've been injured as a result of a bike accident, no matter the circumstances, you may well have a legal case. Let us know what happened, and we'll help you understand your rights and what compensation you may be entitled to by law.