Susan M. Holden Receives the 2023 Professional Excellence Award from the Minnesota State Bar Association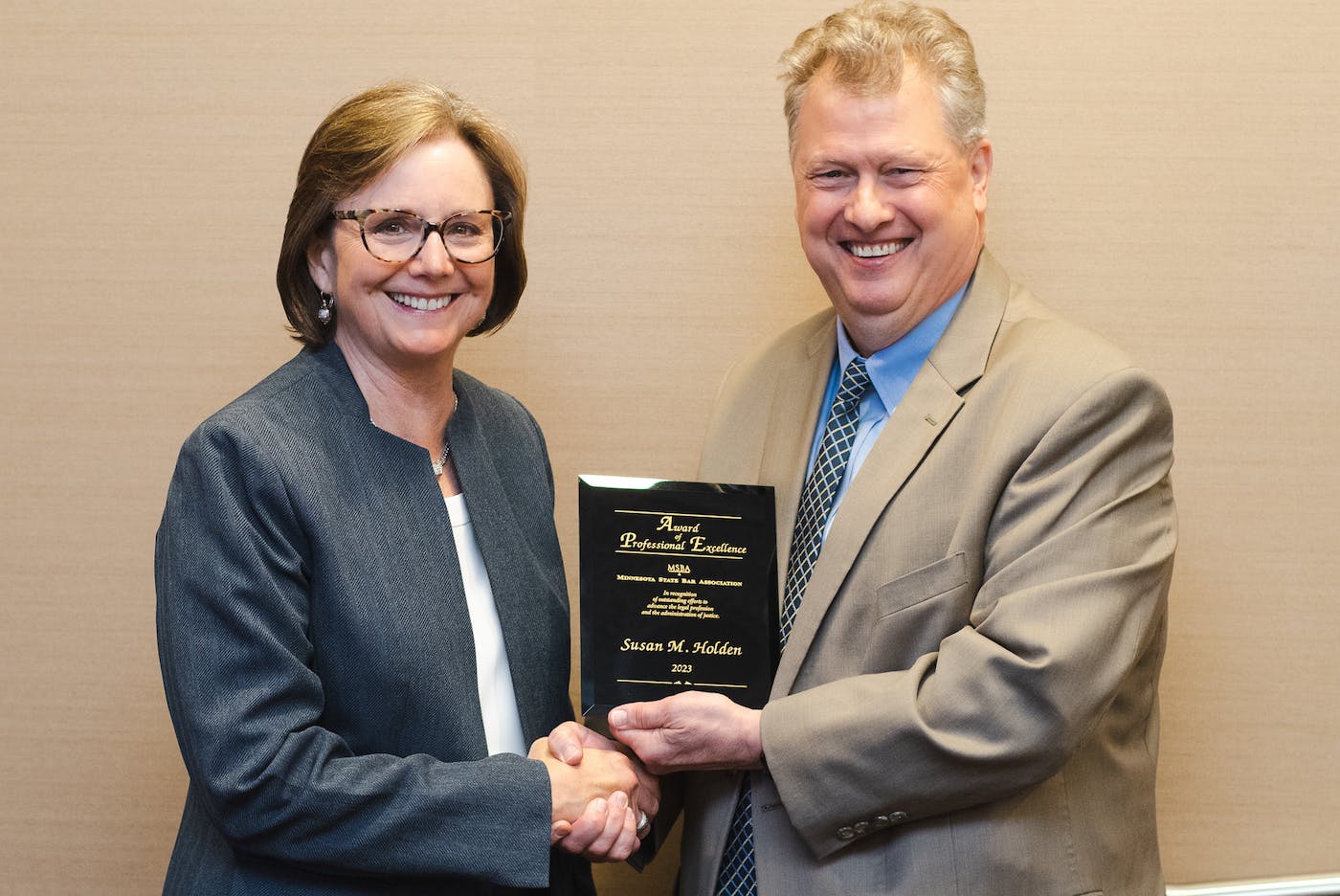 MINNEAPOLIS – June 30, 2023 – Susan M. Holden, attorney and partner at the Minneapolis personal injury law firm of SiebenCarey, was presented with the 2023 Professional Excellence Award by the Minnesota State Bar Association (MSBA), joining a "Who's Who" group of prominent Minnesota attorneys and judges that dates back to 1985.
"This award recognizes attorneys who strive to meet the many responsibilities of a lawyer, including efforts to improve the administration of justice and practice of law, efforts to promote access to justice, efforts to serve and govern the profession, and service of benefit to the community," wrote Cheryl Dalby, MSBA Chief Executive Officer, in the announcement letter to Holden. "The nomination made on your behalf clearly shows that you have exemplified professionalism with outstanding service to the Minnesota State Bar, the legal profession, and the public throughout your career."
"I'm honored and frankly humbled to be included alongside this list of many of the most accomplished members of Minnesota's legal community," said Holden, "including Magistrate Jill Prohofsky with the Minnesota State Court Administrator's office, another recipient of the 2023 award. I think what we all have in common is a passion for upholding our system of justice and making it work for all Minnesotans. I'm proud to have played a part in achieving that goal."
Holden was also recognized during the presentation by MSBA President Paul Peterson for her many years "as one of the state's premier trial attorneys and legal volunteers," including service as president of MSBA and the Hennepin County Bar Association, her continued service in a variety of positions at the American Bar Association, and her ongoing willingness to mentor other lawyers and bar leaders.
In accepting the award, Holden added, "I feel privileged to be a member of a profession that provides so many opportunities to have a positive impact – with the clients we serve, in the justice system where we work, and in the communities where we live."
The Professional Excellence Award was presented at the MSBA Assembly meeting in Minneapolis on Thursday, June 29, 2023.
A partner and lawyer at SiebenCarey since 1988, Holden's practice focuses on cases involving trucking and automobile accidents, product defects, construction accidents, and medical malpractice. Her practice also includes serving as an ADR neutral – arbitrator, mediator, or special master.
Holden is admitted to practice in the Minnesota State and Federal Courts, the Federal Eighth Circuit Court of Appeals, and the United States Supreme Court. She received her Bachelor's degree, magna cum laude, from St. Cloud State University and her Juris Doctor with honors from William Mitchell College of Law.
A northern Minnesota native, Holden now resides with her husband in Blaine.
Download Holden's profile for more information.