Snowmobiling in Minnesota: What you need to know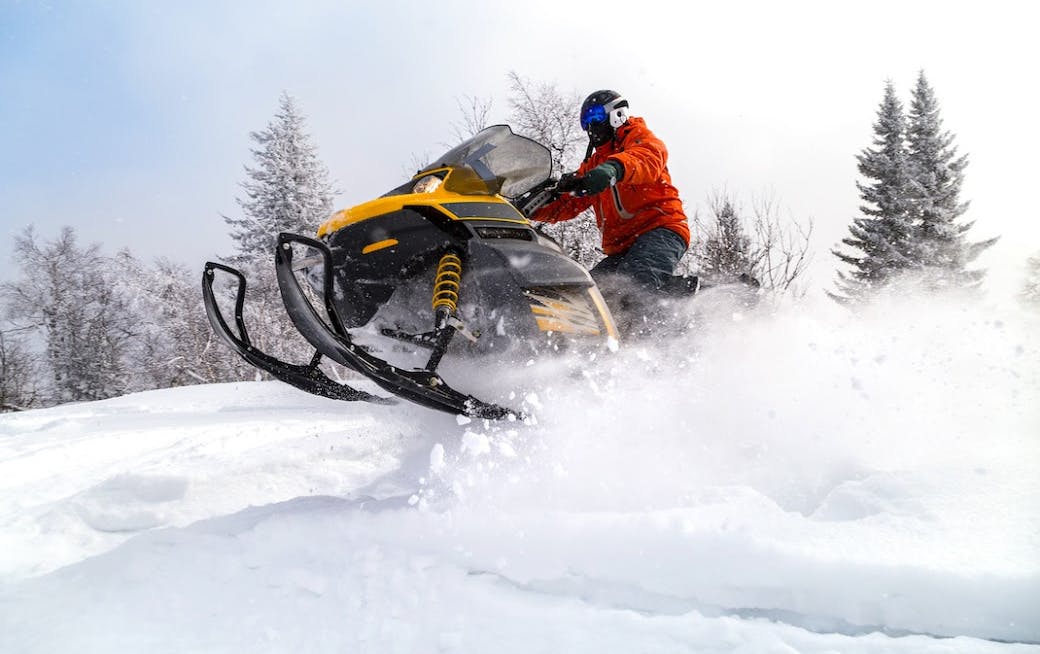 Winters in Minnesota make for excellent snowmobiling. Many locals use our state's colder months to hit the trails, head to ice fishing shacks, or cruise around after a fresh snowfall.
However, as with any motorized vehicle, it's important to know the laws surrounding operating snowmobiles and to practice safety to protect yourself and those around you.
In the 2018-19 snowmobiling season, the state experienced 10 snowmobile-related fatalities. In 50% of the cases, alcohol was involved and 60% of the fatalities involved striking a fixed object, such as a tree. While Minnesota requires any resident born after December 31, 1976 to pass snowmobile safety training, nine out of 10 fatalities had no snowmobile certification.
There are ways for Minnesotans to stay safe while having fun, and the first begins with being properly certified. The state offers both Youth (11-15) and Adult (16+) training courses, both online and in person. Both courses offer snowmobile safety, proper operation of snowmobiles, and the laws surrounding them.
How to stay safe while snowmobiling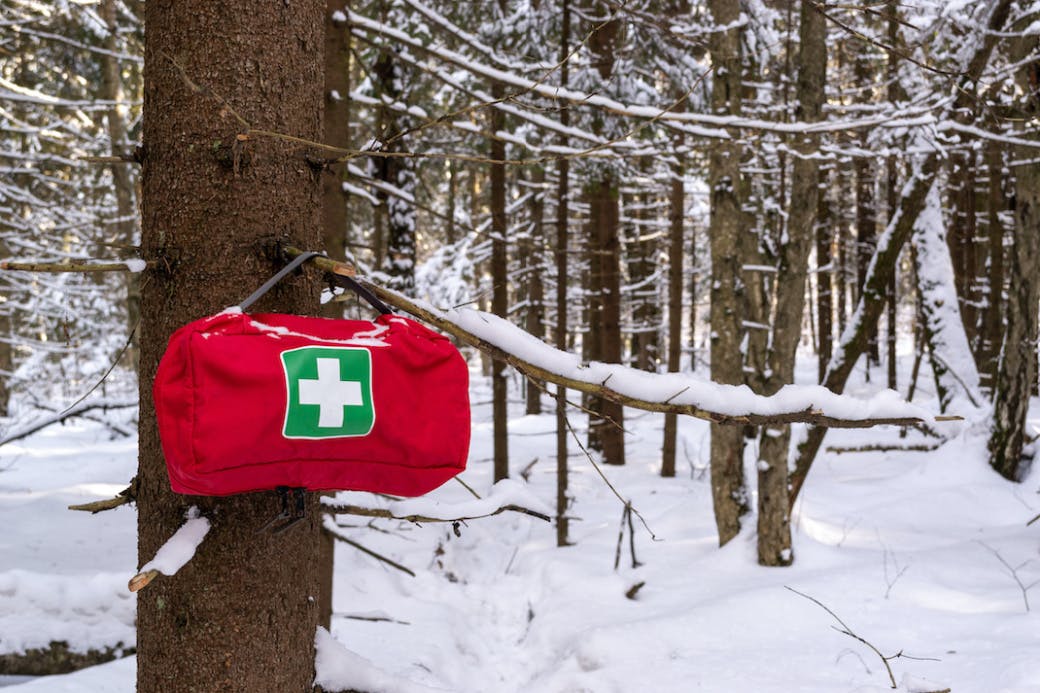 While certifications can prepare riders about what to expect and how to safely operate snowmobiles, there are additional ways to ensure your safety while you're out having fun. Here are just a few to consider.
Prepare for your journey - even if it's not far:
Check your snowmobile before you set out
It's important to make sure your snowmobile is in good working order before heading out. To keep your vehicle in good working condition between rides, make sure you have regular service checks done on it. When you're ready to hit the trail, make it a habit to check fuel and oil levels, brakes, battery, drive belt, handlebars, headlights, etc. Bring your owner's manual with you on the trail as well. That way, if something does go wrong, you can use it to help troubleshoot.
Bring a first aid and simple repair kit
It's always good to have a first aid kit on hand in case of any injuries.
First aid kits should include:
Disinfectant
Bandages
Hand sanitizer
Gauze
Tape
Consider also carrying an emergency kit with:
Waterproof matches
A flashlight
A compass
A blanket
Snacks
A knife
Prep a snowmobile repair kit as well to help you out if your machine breaks down.
Repair kits should include:
Duct tape
Tools and a pry bar
A spare belt
Tow rope
Spark plugs
Don't overload your snowmobile
Be aware of the approved number of passengers and the maximum weight your snowmobile can handle. This information is in the manufacturer's guide. Exceeding these maximums can increase your chance of accidents out on the trail.
Remember: even if you aren't going far, getting stranded in sub-zero temperatures is dangerous. Being prepared for various emergency situations could help save your life or the life of others.
Consider snowmobiling with a friend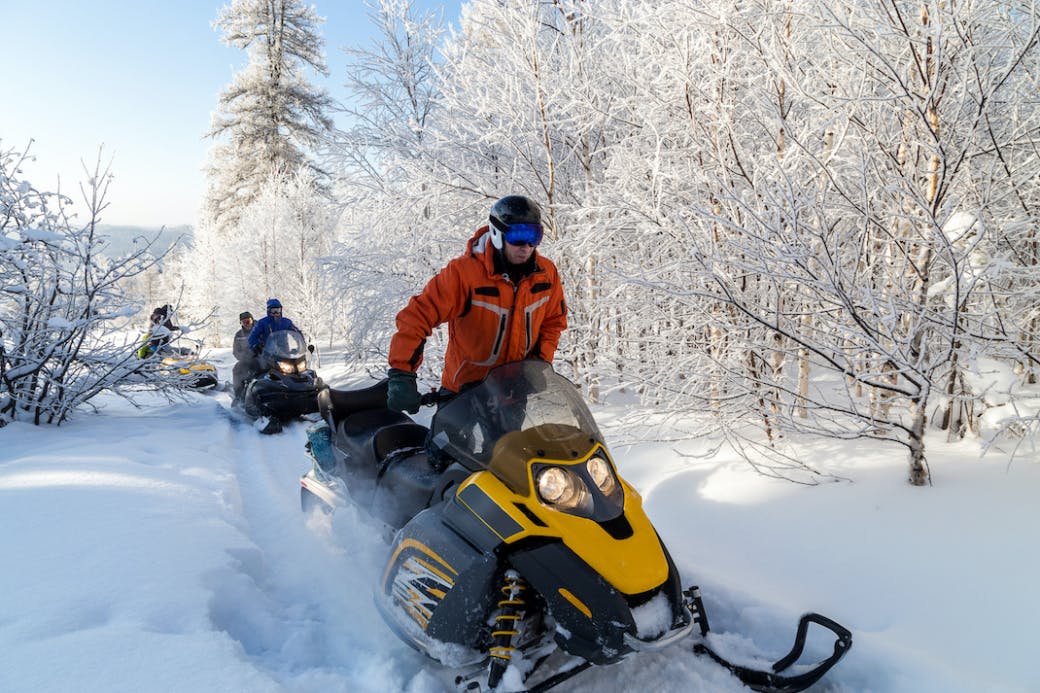 Not only is riding with a friend or group fun, it's also safer, especially if you're testing out new trails. By using the buddy system, you'll have someone there to assist if your snowmobile breaks down or if there's an accident. If you do plan to ride alone, tell a friend or family member your plans and route. While chances are you'll have a cell phone on you, don't rely on it. Cell phone coverage in remote areas can be unreliable.
Be aware of the weather and your surroundings
Even before you head out, you should know what the weather conditions are throughout the day. If you know the trail, you might know what to expect, but if you're heading out someplace new, there are a few important details that will keep you safe.
Pay attention to weather and trail conditions
Planning ahead is a good idea, especially in Minnesota where the weather can change quickly and conditions can become quite harsh. If the trail is frozen or the wind chill is too low, it might be a good idea to postpone your outing. White-out conditions are hazardous and could lead to riders losing their way or hitting objects. Of course, noting the weather conditions will also help you decide on proper attire for the trail.
Wear the proper clothing and equipment
While snowmobiling in Minnesota, it's important to stay warm and dry. This will make the ride more enjoyable and keep you safe. Wear a snowmobile suit and dress in layers underneath. Avoid cotton fabrics, which stay wet and can freeze. Opt for wool or specialized winter technical gear that keeps body heat in and wicks moisture away. Be sure to wear goggles or a face shield, gloves, a winter hat and face mask along with winter boots. Always wear a DOT-approved helmet to protect yourself from head injuries and make sure any children have fitted helmets as well.
Avoid frozen rivers
It's very difficult to gauge the thickness of ice on a river. It can easily crack under the weight of a snowmobile, and, if a rider falls in, the water moving underneath may push them further under the ice before they will be able to surface. Snowmobiling across rivers isn't worth the risk.
Keep to the trail
A marked trail is marked for a reason. It's been groomed and likely has had hazards removed. Treat trails as you would roads and follow them as opposed to veering off into unknown territory. Heading off-trail can cause accidents because the snowmobile is treading on unfamiliar terrain. You could easily hit a rock or a tree stump and damage your snowmobile or hurt yourself. Going off-trail may also lead to inadvertent trespassing. Unless you have permission from the landowner, keep to the trails.
Know the law
Like driving a car, operating a snowmobile means following certain laws. These laws are in place to keep yourself and others safe. There may be consequences in the form of fines or imprisonment if these laws are broken (depending on the severity).
Register your snowmobile and get a trail permit
In Minnesota, snowmobiles must be registered and trail permits must be acquired at the beginning of the snowmobile season. The state sells trail registration stickers for $51. Anyone caught operating a snowmobile without a state trail sticker will face a fine and be required to purchase an annual $71 trail sticker.
Never drink and drive
A snowmobile operator cannot be intoxicated while driving. Not only can it lead to delayed responses that can cause accidents or even death, it's illegal. Minnesota law states that a person is considered intoxicated when he or she has a blood-alcohol level (BAC) of 0.08% or more. Penalties for snowmobiling while intoxicated are just as severe as drinking and driving and could include fines or jail time, the loss of snowmobiling privileges and/or the loss of your driver's license. Penalties are increased for those who have prior DWI violations, a BAC two times the legal limit, or have a child 16 years or under with them.
Don't speed
It's against the law to speed while operating a snowmobile. Speed limits for the state of Minnesota are:
50 MPH on any public land
As per the speed limits posted on marked trails
The posted speed limit or 50 MPH (whichever is lower) while operating in a ditch
A speed greater than what the outside conditions dictate according to the trail, terrain or visibility
Know where you can and can't ride
Snowmobile riders can only ride their snowmobiles in designated places. In Minnesota, it's okay to operate your snowmobile in areas such as:
The bottom or outside slope of a ditch of a county or state road
Township roads when not restricted by local ordinance
Public lands that are open to motorized vehicles (according to federal, state and local ordinances)
Land that is posted with signs stating "snowmobiles allowed" inside the seven-county metro area
Agricultural land with permission of the landowner outside the seven-county metro area
However, snowmobiles cannot be::
On the roadway, shoulder, or inner slope of the ditch of a state or county road
In any state park, state recreation area, state historic site, wildlife management area, or state scientific and natural area (with the exception of areas with posted snowmobile trails)
In any areas restricted by local ordinances or municipalities
On the median of a four-lane roadway
Be aware, as a driver, of where you can and can't be to ensure you are following the rules and not breaking the law.
Follow the rules of the trail
Snowmobile etiquette is similar to the rules of the road. For example, if you come to an intersection, the operator to the right has the right of way. When passing, the operator must pass to the left, and when meeting another snowmobile, always slow down and stay to the right.
For more etiquette rules and a breakdown of all of Minnesota's snowmobiling rules and regulations, you can download the Minnesota State Snowmobiling Regulations document.
Each year, over 13,000 individuals are hurt while snowmobiling. Accidents can occur due to operator negligence, dangerous trail conditions or defective machines. Often, alcohol is a common thread in many snowmobile cases and avoiding alcohol before operating a snowmobile reduces the likelihood of accidents.
If you've been in a snowmobile accident, it's important to see a doctor immediately. If you've been injured due to the negligence of a snowmobile operator, you may be entitled to payment for your health costs and property damage as well as pain and suffering.
At SiebenCarey, we handle snowmobile related cases, and if you need advice on your situation and the best way to proceed, we're here to help