Attorneys Fight Human Trafficking with Civil Litigation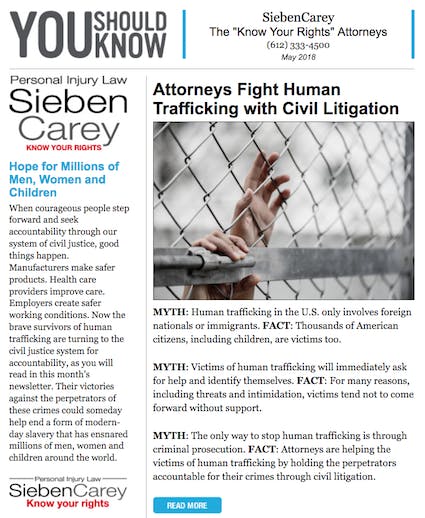 In our May You Should Know newsletter, we learn how courageous victims of human trafficking are turning to civil courts to hold perpetrators accountable for their crimes. Together with private lawyers, they are hitting traffickers where it hurts the most: their pocketbooks. And in cases where major corporations are unwittingly benefiting from slave labor in their supply chains, these actions are changing the way these companies do business.
Said Martina Vandenberg, founder and president of The Human Trafficking Pro Bono Legal Center, "Slowly, victims held in modern day slavery are learning that they can bring their own suits for damages against the perpetrators. We are on the cusp of a new movement: accountability litigation to end modern-day slavery."
This encouraging development once again highlights the power of our civil justice system. When people step forward and seek accountability through our system of civil justice, good things happen. Manufacturers make safer products. Health care providers improve care. Employers create safer working conditions. And now, thanks to the brave victims of human trafficking and the lawyers who represent them, we may be making progress in ending an insidious practice that affects an estimated 45 million people worldwide, 57,000 right here in the U.S.