Breaking the Ice: Volunteer commitment brings MSBA recognition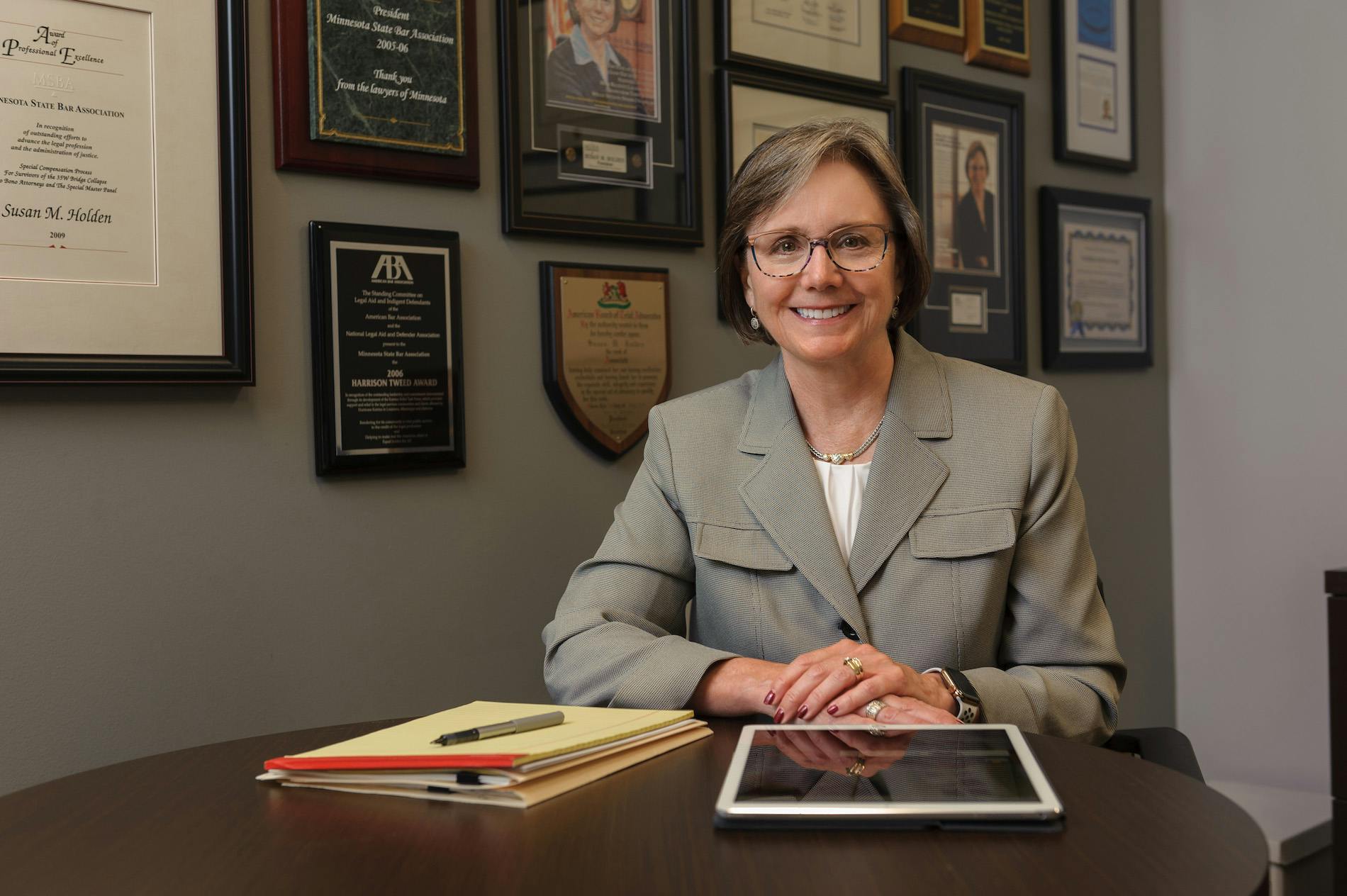 After a year of notable accomplishments in a career full of them, Attorney and SiebenCarey partner Susan Holden sat down for a lively Q&A with Todd Nelson and Minnesota Lawyer. The result is a peek behind the curtain at Susan's work, outside interests, hometown pride, and even her pet peeve!
A Q&A with Susan Holden
By Todd Nelson
Susan M. Holden didn't stop volunteering with the Minnesota State Bar Association when her term as president ended.
Recognized for her continuing commitment and as "one of the state's premier trial attorneys and legal volunteers," Holden received the MSBA's Professional Excellence Award in June.
"It's a great way to give back to the profession and to work with lawyers who care about access to justice, a good functioning court system and the independence of the judiciary," Holden said.
Holden, also a former Hennepin County Bar Association president and an active American Bar Association volunteer, said such service is "energizing" and helps avoid burnout.
A SiebenCarey partner, Holden focuses on personal injury and wrongful death claims.
"You deal with clients whose injuries are often very serious or catastrophic or they've lost a loved one," Holden said. "It's an area where you can make a difference in people's lives."
Name: Susan M. Holden
Title: Partner, SiebenCarey
Education: B.A., political science, St. Cloud State University; J.D., William Mitchell College of Law
Q: Best way to start a conversation with you?
A: Ask me about travel or women's basketball.
Q: Why law school?
A: I wanted to help people and considered medicine or law. While I was still in high school, I decided that I wanted to be a lawyer. Ironically, I became a personal injury attorney, which has its share of learning medicine.
Q: What are you reading?
A: "The Covenant of Water."
Q: Pet peeve?
A: Lack of civility, in public discourse or in professional dealings.
Q: Best part of your work?
A: My clients. I love helping people find some resolution to what is otherwise a really bad circumstance.
Q: Most challenging?
A: My clients. I represent people at some of the worst times in their lives. Emotion often runs high, their concerns about the future are real and dealing with them can be a challenge.
Q: Favorite activity away from work?
A: My husband and I love to travel. Photography, gardening, woodworking. Time at the lake. Watching the Minnesota Lynx in the summer and the Minnesota women Gophers in the winter. That was my sport in high school.
Q: Where would you take someone visiting your hometown?
A: My hometown is Backus, and our lake place is near there. I'd start at our cabin, take a cruise on the Portage Chain of Lakes and maybe ride the Heartland State Trail. Have dinner at the Salty Dog. And finish the day on our lakeshore with a bonfire, roasting marshmallows and watching the sunset. There might be a glass of wine to wash down the s'mores.
Q: Legal figure you admire?
A: Ruth Bader Ginsburg. She was bright and used her law degree for good. Gender equality was central throughout her career. I think I underestimated how much we truly needed her voice until it was no more. She modeled consensus-building with colleagues who were very different ideologically from her. She's the only lawyer or judge whose face I would wear on a T-shirt, and I do.
Q: Misconception that others have about your work?
A: That personal injury claims are only about the money.Granted, in civil litigation generally the only thing that lawyers can accomplish is the exchange of money. But injury claims are about far more than that. It's important to my clients that there be some acknowledgement from the at-fault party about the life-changing consequences that they have to live with. It's also important for my clients to find some control in their lives after the chaos and disruption that comes with unexpected in-juries or sudden life changes.
Q: Favorite book, movie or TV show about lawyers?
A: "A Civil Action," a book and a movie based on a true story. The lead character takes on an envi-ronmental personal injury case representing families that have suffered illnesses or deaths due to chemical exposure. The law-yer tries mightily to do the right thing for his clients, sometimes for the wrong reasons, against corporations with endless re-sources. He won some battles and lost the war but ultimately did some good.
Reprinted by EnVeritas Group with permission from Minnesota Lawyers Weekly . www.enveritasgroup.com SM091923