Danielle Bird: Working With Heart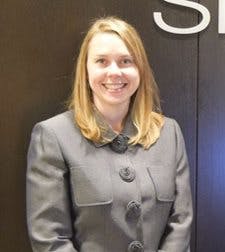 Danielle Bird is a fiery advocate of injured workers at the firm of SiebenCarey, where she is known for her well-balanced representation and skill in bringing resolution to legal matters. She has a passion for representing injured workers.
A Minnesota native, Bird is a graduate of the William Mitchell College of Law. After law school, she gained valuable experience, working as a judicial clerk in Ramsey County and then practicing eight years at the firm of Lynn, Scharfenberg & Hollick defending workers' compensation claims for SFM Mutual Insurance Company. While working as a defense attorney, Bird successfully argued a workers' compensation case before the Minnesota Supreme Court.
"It was a rewarding experience because it strengthened my skills as an advocate," she said. "When that argument was scheduled, I was apprehensive about how I was going to handle it. I prepared with support from other attorneys and friends on both sides. It was an opportunity to add a critical piece to my experience and ability as an advocate and to explore the issue from all sides."
Bird's father is also an attorney, who has represented plaintiffs and injured workers. While she was working for the defense, people would say to her, "Does your dad know you're doing this?" Luckily her dad was always supportive of her choice. "We often talked openly about the law and how to handle difficult situations. My dad was my example. I witnessed the satisfaction and joy he received helping people who were not otherwise able to help themselves."
Her years of working in insurance defense have turned out to be of great benefit to her clients today, giving her an unmistakable edge when it comes to formulating correct case strategies. That experience inspires the confidence of her clients and the cooperation of her opponents. "One of the main things I bring to the table is that I know how insurance companies think and how they process claims. I understand their cost-benefit analysis for approving or denying claims and how settlement value is calculated. I can easily put myself in their shoes and say, 'If I were the defense attorney on this file, how would I analyze it?' By raising the veil on the inner workings of the insurance company, I can accurately assess the strengths and weaknesses of my client's claim and guide them to the best possible result, whether that is a settlement or a trial."
Bird's many years of practice allow her to foresee issues and warn clients about potential problems. "I see a lot of claims where all benefits are being paid and the worker seems to be taken care of, but the potential exists for circumstances or events that can drastically affect a client's rights and benefits. One of my best skills is thinking three or four steps ahead and providing legal advice to prevent something bad happening. For example, my experience gives me insight into when a company is ramping up to discontinue benefits and can help prepare a client for the steps they need to take to protect and assert their rights."
Bird also strikes a calming balance between demonstrating compassion for her clients' difficulties and providing reasoned legal advice free of emotion. "It's scary for people when they are injured and feel their employment and livelihood threatened by an injury. And because workers' compensation is a no-fault area of law in Minnesota, it can add to a person's feelings of frustration when there isn't anyone they can blame. Ultimately, my job is to compassionately listen to these concerns, but also give them good, solid advice – that is what they're relying on me for."
Bird's expertise, varied legal experience, sincere client care and respectful peer relationships make her an effective problem solver. "I am passionately dedicated to the work I do. I want to help people who have been injured and find themselves in difficult financial, medical and emotional situations. My practice is invigorating and rewarding; I work with heart."