Winter Storms Are Here! Read These Safe Driving Tips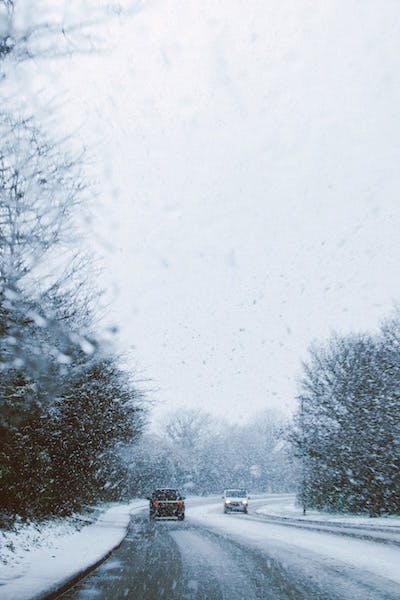 It's that time of year with the first major storm already upon us. As the wind, snow and ice start to build, now is a good time to talk winter driving safety. As an accident attorney with over 30 years of experience witnessing the perils of winter driving first hand, I thought I'd take a moment to share a few safety tips for your winter travels.
Before You Venture Out
Do not warm your car up in an enclosed area such as your garage.
Make sure your tires are properly inflated and the tread meets winter driving standards. Keep in mind cold weather can change the tire pressure, which can impact driving.
Keep cold weather gear in the car such as blankets, scraper, dry food, warm clothing, shovel, gloves, phone charger and a flashlight.
Always keep at least a half a tank of gas in the car. Make sure all fluids, including wiper fluid, are topped off.
Tips for Driving in the Snow
Let's start with this: Don't go out unless absolutely necessary during a serious storm. Why take risks if you don't have to?
Accelerate and decelerate slowly. Applying the gas slowly is important to avoid spin-outs. Don't be in a hurry and remember it takes longer to slow down on snow and ice.
Slow down. It's critical to remember there's a difference in traction when driving on snow and ice, so adjust accordingly.
Increase your distance between cars. Since it's harder to slow down, you need more room. For sure don't tailgate!
Understand your brakes. If you have ABS brakes (most of us do), press firmly and don't pump the brake pedal. If you feel like you're losing control, gradually let off the accelerator first.
Drive smoothly. A smooth and steady drive can be critical to avoid a spin-out. Avoid sudden movements that could cause you to lose traction.
Come to a gradual stop. Pay attention to what's ahead, and gradually slow as you approach your stop. The less you hit those brakes, the less your chance of hitting someone or something.
Stay alert. A lot can happen during winter driving. Driving distracted is never a good idea, but could be particularly dangerous during inclement weather. So, ignore that phone and pay careful attention to your surroundings.
Do not use cruise control. This one goes hand and glove with staying alert. Using cruise control on snow and ice can quickly result in an accident.
Long Distance Trips: Be Prepared
Check the weather. Review what's ahead and delay the trip if possible if the weather looks bad.
Stay in touch. Before heading out, let others know when you are leaving, where you are going and the route you are taking. Consider letting others know when you arrive.
If you get stuck, consider the following:
Stay in your vehicle. The vehicle will be temporary shelter and make it easier for others to find you.
Be visible. Do what you can to be seen such as tying a colored cloth around your antenna. Turn the dome light on at night. The dome light uses minimal electrical power and could make it easier to be seen.
Clear your exhaust pipe. Make sure there is no snow, mud or ice near or in the exhaust pipe. A blocked exhaust pipe can cause deadly carbon monoxide gas to leak back into the car while running.
Do not over exert yourself. If you need to shovel, make sure you work within your physical capabilities.
Stay warm. Insulate yourself from the cold and use the protective clothing and blankets packed in your car.
Conserve fuel. Run the engine to take the chill off. Depending on where you are, you want to maintain some level of warmth as long as possible.
The bottom line: stay alert, be cautious and use your best judgment. Minnesotans enthusiastically embrace winter, but caution on the road is critical. I'm always happy to assist and answer any questions you may have related to on-the-road mishaps. I'm a senior trial specialist, have been awarded "Best Lawyers in America," and have been recognized by Thomson Reuters as a Super Lawyer every year since the award was created. Feel free to call me at (952) 469-2288 or email me at art@knowyourrights.com.