10 Car Safety Tips to Protect Your Kids on the Road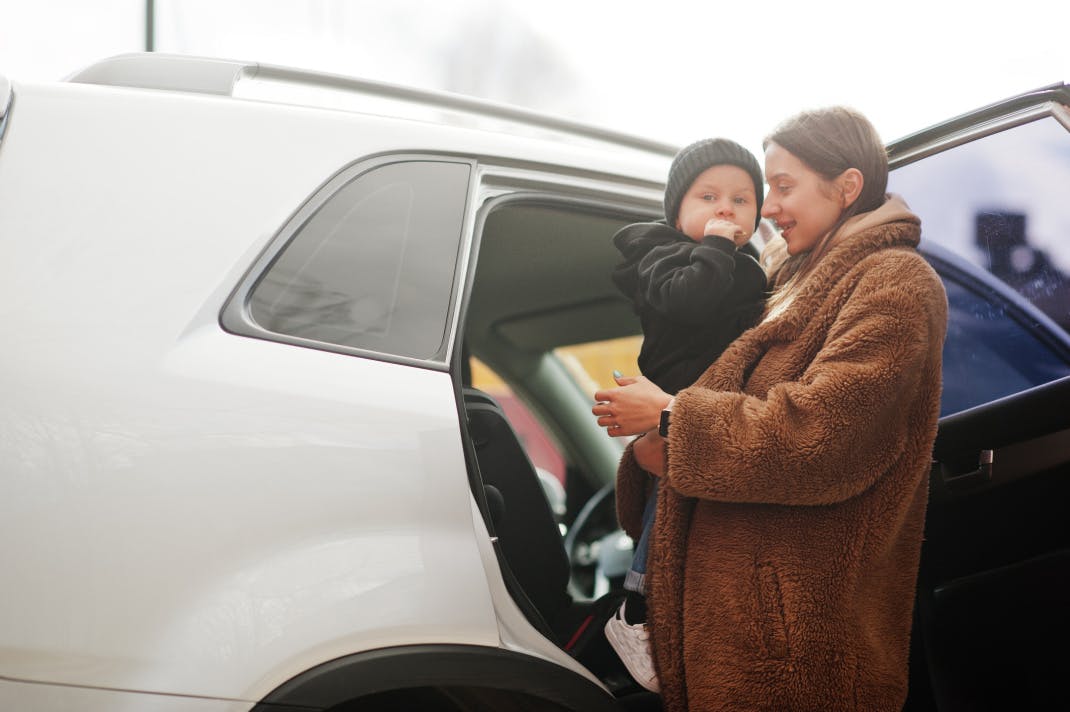 As a parent, nothing is more important than keeping your children safe. This can make driving a nerve-wracking experience. Do you have the right car seat? Did you buckle your child in correctly? What if you're in an accident?
To help you protect your most precious cargo, we've compiled a list of 10 car safety tips for parents. Here's how to keep your little ones safe on the road.
1. Choose a Safe Vehicle
The safer the car, the safer the passengers inside. When choosing your ride, prioritize vehicles with a reputation for dependability. Newer models will generally come equipped with valuable safety features, such as:
Anti-lock brakes
Electronic stability control
Traction control
2. Practice Safe Driving Habits
Even the most up-to-date vehicle is only as safe as its driver. Always practice proper driving habits, regardless of whether your children are in the car. That means you should never:
Violate traffic laws
Drive without a seatbelt
Drive while distracted
Give in to road rage
Drive while intoxicated
…or anything else that could lead to an accident. Not only will this keep everyone safer, but it will also set an excellent example for your children. That will make your job much easier as they grow up and become teen drivers.
3. Activate Child Safety Locks
While most parents know the risks of an unlocked car door, many underestimate how dangerous a window can be. According to one study, at least 1,000 children yearly are treated for injuries caused by power windows. Always activate the child safety locks on your windows when your children are in the vehicle.
4. Avoid Solid Food in the Car
Car rides may seem like the perfect opportunity to hand out snacks (or maybe to cram some breakfast on the way to school). However, letting kids eat solid food in the car can be risky. The motion of a vehicle could cause choking in small children. If your children are hungry during a drive, consider giving them liquid snacks like yogurt, pudding, or applesauce.
5. Buckle Up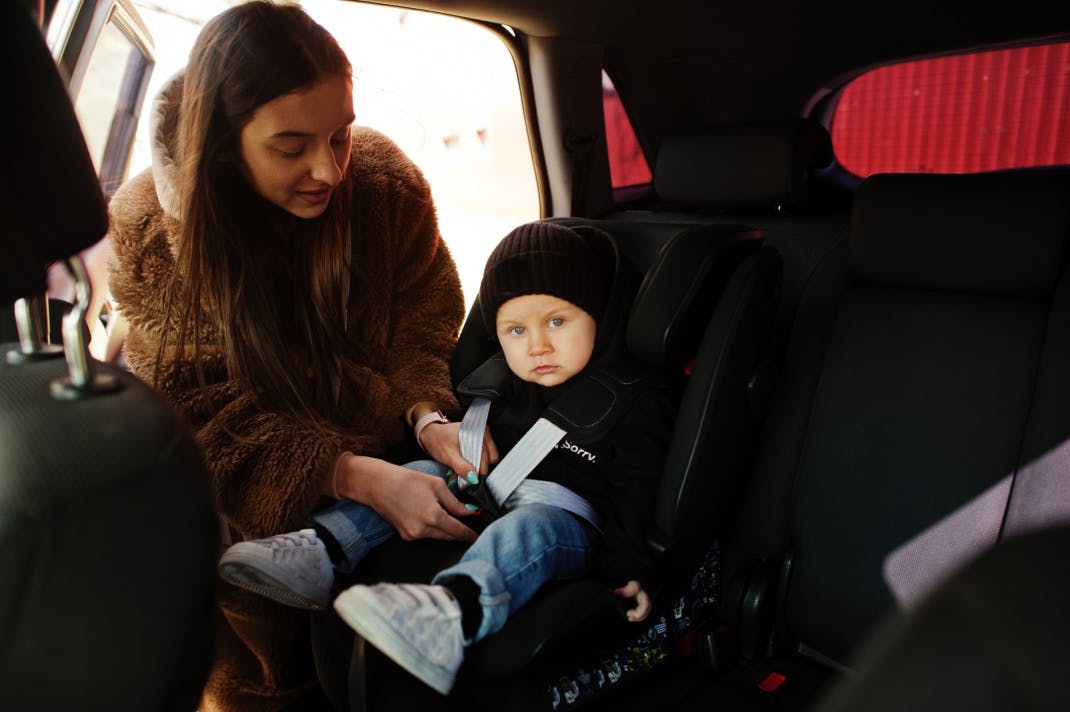 Before driving anywhere, make sure every child is properly secured with a seatbelt. If a child removes their seatbelt, pull over in a safe place to buckle them back in. Don't let multiple children share one seatbelt, and don't let a child ride on your lap or the lap of any other adult. The rule is always one seatbelt per person.
6. Learn Car Seat Safety
Using the right car seat is essential for child safety. Unfortunately, car seat mistakes are all too common. The National Highway Traffic Safety Administration (NHTSA) estimates that 59% of car seats are misused. Parents should always:
Choose the correct car seat based on the child's age, weight, and height
Read the instructions carefully
Follow the guidelines for proper use
7. Assign Seats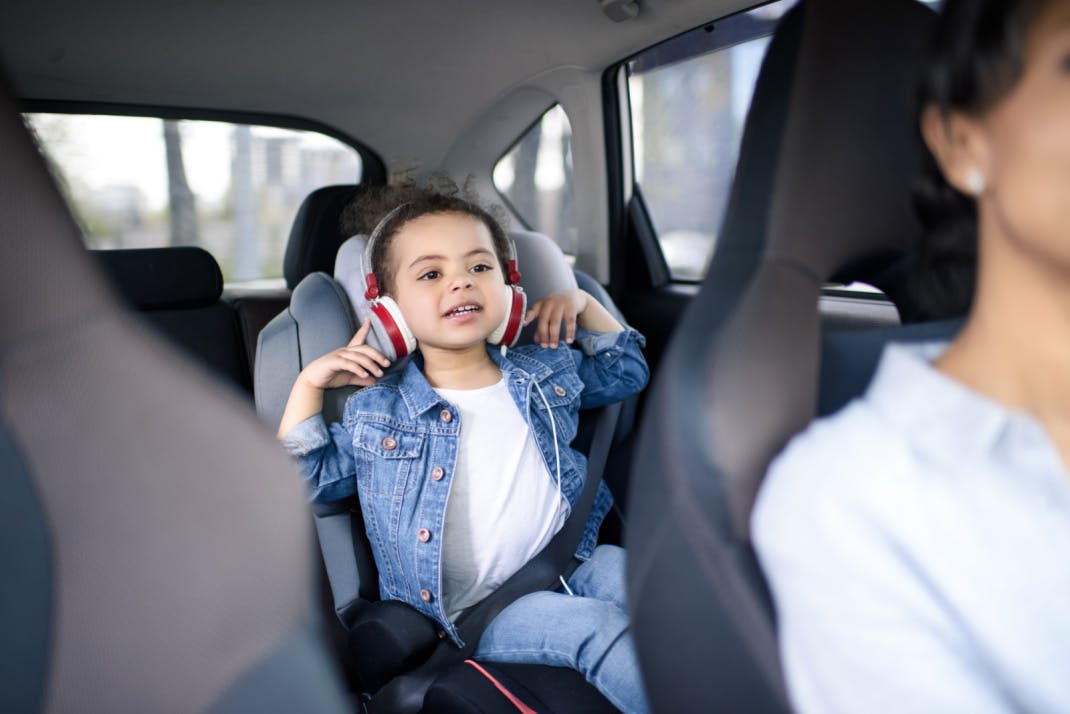 Even after a child has outgrown their car seat and booster seat, they should sit in the backseat until at least age 13. This protects them from front-seat airbags, which can injure young children when deployed. Arrange your children in the safest seats based on their age.
8. Secure Loose Objects
Any loose object can become a dangerous projectile in a moving vehicle, especially if you suddenly brake. Keep small items in your pockets, glovebox, or center console. Secure large items on the floor or under seats. Better yet, store heavy objects in the trunk.
9. Never Leave a Child Unattended
Children should never be left in a vehicle without adult supervision. Even if you're only planning to pop into a store for a few minutes, bring your children with you. The list of possible bad outcomes is long, including severe heat sickness or death in summer months.
10. Teach Children How to Be Good Passengers
The sooner you instill proper vehicle etiquette in your children, the better. For example, children should learn not to:
Demand your attention
Make too much noise while you're driving
Fight with their siblings
Escape from seatbelts or harnesses
Play with controls
Throw toys
Put small objects in their mouths
By teaching your children how to behave in the car, you can limit distractions for yourself. Of course, sitting quietly for a long trip is often very difficult for a child. Instead of asking for the impossible, give them appropriate activities to occupy their minds. This will help them not to become bored or restless.
Protect What Is Most Precious to You
Using these tips, you can keep your kiddos safer on the road. Accidents still happen, though. No matter how careful you are, other drivers can cause an accident through negligence.
We can help you get the compensation you need if you are injured in an auto accident. Just contact us, and we'll be happy to:
Explain your rights to you
Investigate your injury
Strengthen your case
Negotiate with insurance companies on your behalf
Help you reach a favorable settlement or verdict
Plus, we work on a contingency fee basis, so you won't owe us anything unless we win your case.