How to Keep Trick-Or-Treating Safe & Fun for Everyone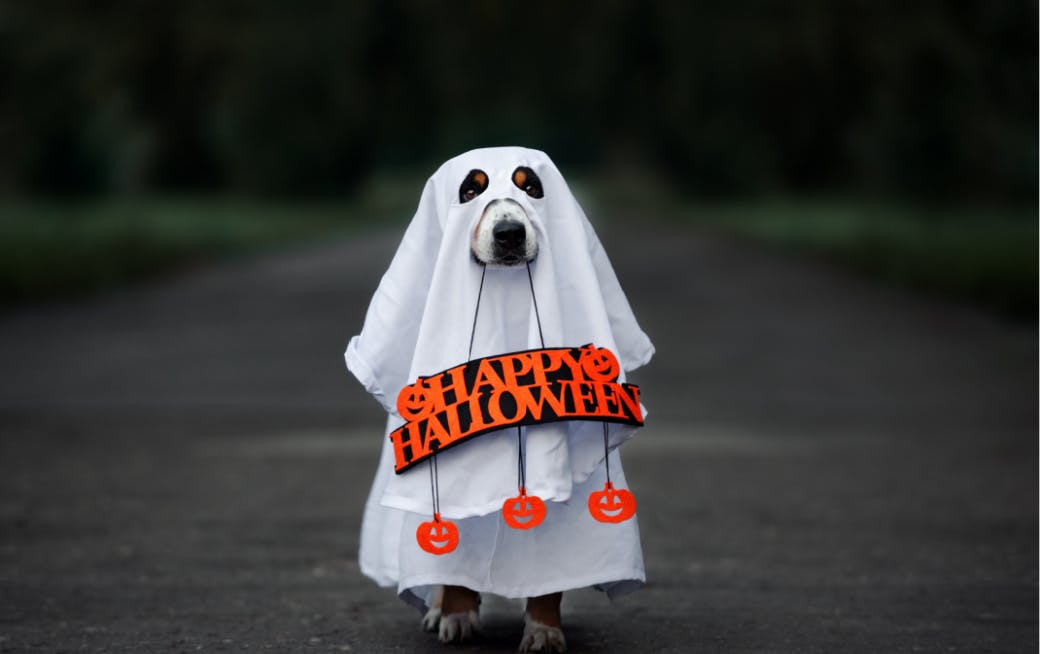 Who doesn't love Halloween? Fun costumes, carving pumpkins, trick-or-treating, and of course, plenty of sweet, sweet candy.
But while Halloween may be a blast, it can also be an unusually risky night. As a parent, it's best to take the time to make sure your child stays safe, whether they're dressed as a vampire, ghost, or Harry Potter.
This year, the current COVID-19 pandemic is going to be a factor as well. Because trick-or-treating is largely an outside activity, it's a much better option than an indoor gathering or other potential Halloween festivities. Still, there are a few extra precautions worth taking to minimize the risks of exposure to the virus.
Here are some safety tips to keep in mind when the spookiest day of the year rolls around.
Sending Your Child Off to Trick-Or-Treat Safely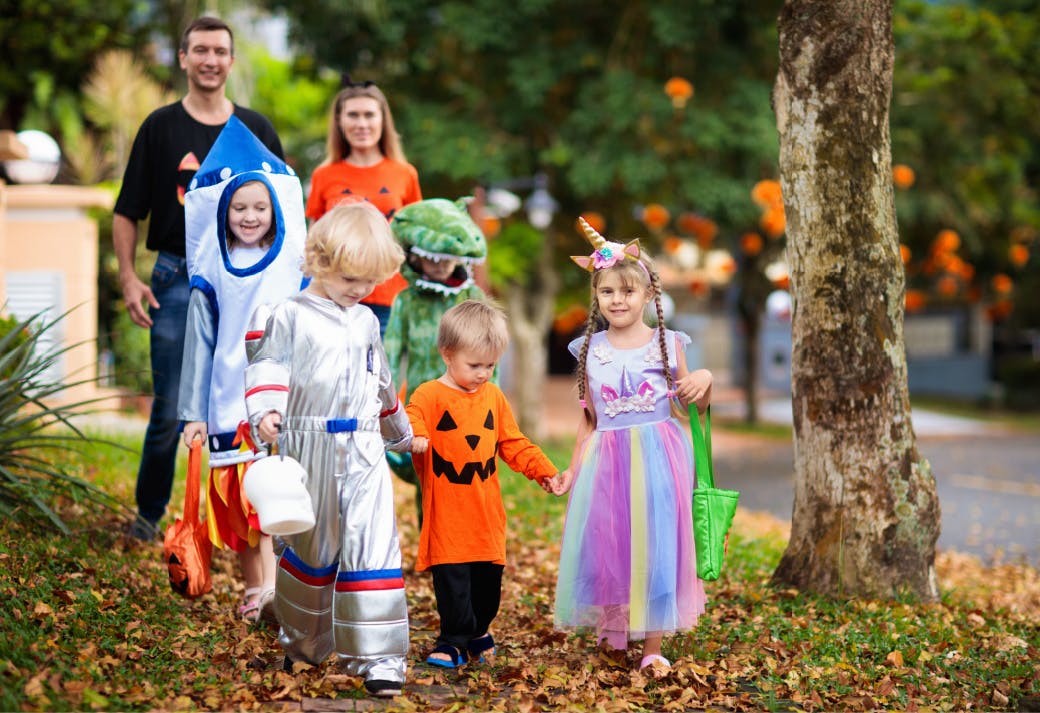 When the time comes for trick-or-treating, always accompany children under 12 years old on their neighborhood rounds. Get in on the fun!
Even if your child is mature and old enough to head out without you, there are still precautions worth taking. Here are some good ground rules to set:
Have your child go as part of a group, whether with siblings or friends. Make sure the older kids know they're responsible for the younger ones.
Plan and review a route that's acceptable to you. Make sure they stick to well-lit, public areas that are familiar to them.
Establish a clear curfew.
Give them a cell phone so that they can call if they get lost or into any trouble. Have them check in on a regular schedule so you always know where they are.
Give them flashlights with fresh batteries, too, so they can always see where they're going.
Explain that because of the risks of COVID-19, they should always stay at least six feet away from everyone else.
Warn them to be vigilant for any wet patches, ice, or snow that could cause them to slip and fall.
Make sure they know never to go into a stranger's house or vehicle. They should collect their treats on the porch, say, "Thank you," and leave.
Instruct your child not to eat any treats until they get home. Tampering with Halloween candy is rare, but it does happen. And because of the COVID-19 virus, you want to be sure nothing is transmitted through contact with a candy wrapper or other surface. As soon as your child is home, have them wash their hands thoroughly while you wipe down the candy with disinfectant wipes. Throw out anything spoiled, unwrapped, or just suspicious.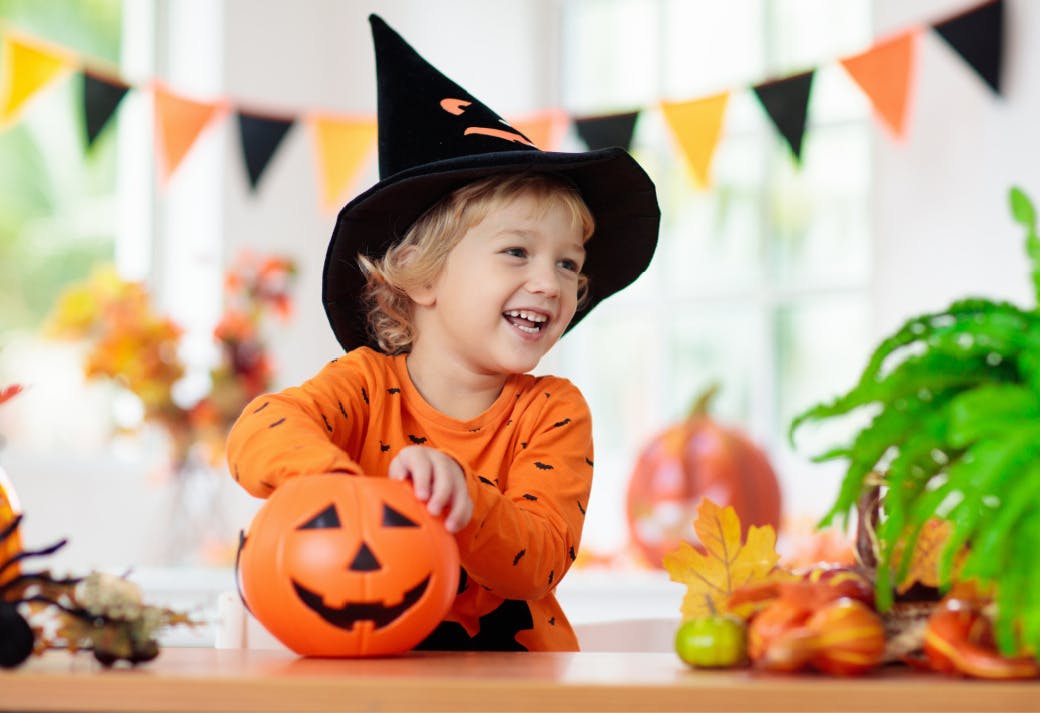 And most of all, educate them on how to stay safe around streets and traffic. According to Safe Kids Worldwide, children are more likely to be struck by vehicles on Halloween than on any other day of the year. So make sure that they know to:
Stick to sidewalks on well-lit streets
Walk, never run
Exercise appropriate caution when crossing the street
Make eye contact with drivers before they cross to make sure they've been seen
Pay attention to their surroundings—no staring at their phone while they walk
In Then there are the costumes. Costumes are one of the best parts of Halloween, but they can still be a hazard. Here's how to cut down on the danger:
Get light-colored costumes so children are visible in the dark. Add reflective or glow-in-the-dark tape if possible, and give them a glow stick or two for extra visibility. (You probably won't have much trouble convincing a kid to carry a glow stick—they love them!)
Make sure every piece of any costume is the right size to prevent trips, falls, or entanglements. Avoid oversized or high-heeled shoes.
Hems should be well above the ground to avoid tripping. It's also a good idea to remove choking hazards—such as buttons and beads—from younger children's costumes.
All costumes, wigs, and accessories must be fire-resistant, especially with candlelit jack-o'-lanterns on porches and street corners.
Masks are important for COVID-19 protection. However, a standard Halloween costume mask is not an effective substitute for a cloth mask—and you should never let your child wear both, as it may make breathing difficult. Instead, consider using a Halloween-themed cloth mask. Your child could even honor our brave caregivers by going as a nurse, doctor, or other medical professional who would often wear a protective mask anyway.
If your child wants to incorporate face paint or makeup into their costume, make sure it's nontoxic. Toxic ingredients have been found in cosmetics marketed to teens and tweens. Even if you don't see any red flags in the makeup, always test it ahead of time on a small patch of your child's skin to ensure there are no allergic reactions before putting more on.
And here's a big one: don't use decorative contact lenses without an examination from a licensed eye doctor. The packaging on decorative lenses often claims that you don't need a prescription, but don't believe it. Buying them without an eye specialist's input is dangerous, illegal, and could bring serious consequences. The wrong lenses can cause inflammation, pain, and even severe infections and eye disorders.
Never, ever use colored or decorative contact lenses unless they're prescribed by a professional.
Protecting Other Little Trick-Or-Treaters on the Roads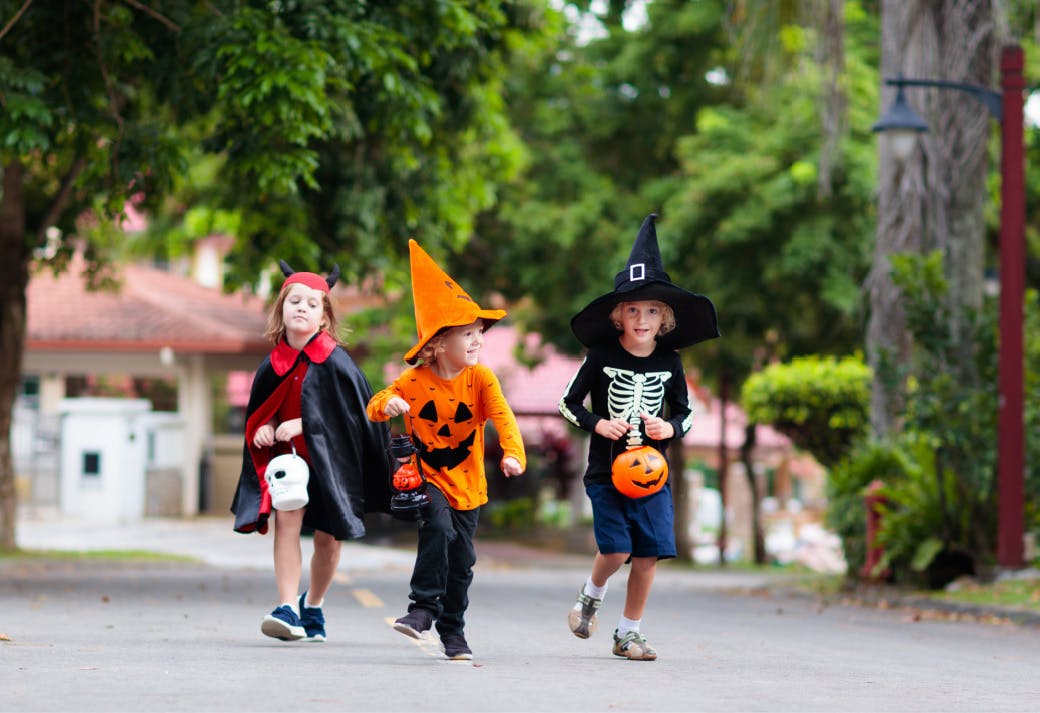 You've done all you can for your own kiddos. But there are bound to be plenty of other kids out there on Halloween, so take all appropriate steps to make sure you're making life as safe as possible for them all.
If you're going to be driving at all on Halloween, follow these tips:
Drive slowly, and be especially alert in residential neighborhoods. Excited children can be unpredictable, and Halloween is a very exciting night.
Always watch for kids at intersections or on medians and curbs.
Be extra careful when pulling in and out of driveways or alleys.
Put down any distractions—like your phone—so you can focus on the road.
Turn your headlights on earlier than you normally would.
Be cautious of wet patches, leaves, or ice on the roads that could cause you to lose control of your vehicle.
Welcoming Ghouls & Goblins Safely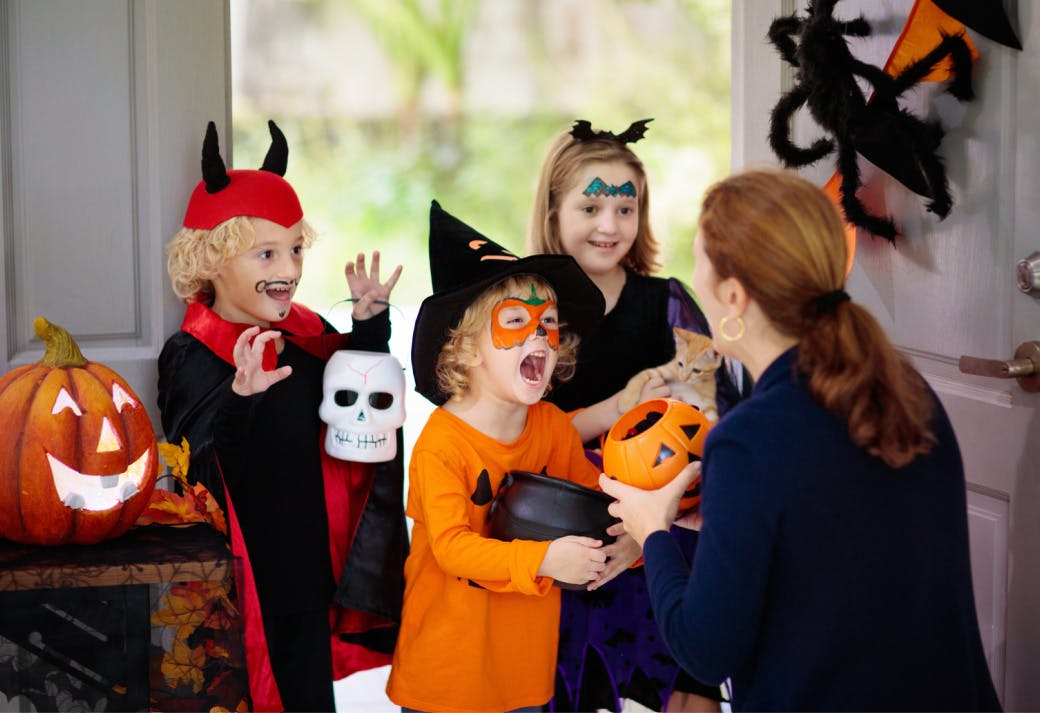 Even if you aren't going to be on the road, you should still make sure any trick-or-treaters coming to your doorstep for candy will be safe.
Never place candle-lit pumpkins on any path or porch close to where visitors may pass. Consider using a flashlight or glow stick instead of a candle.
Keep your front yard and porch clear of all potential tripping hazards, such as toys, bikes, lawn decorations, or garden hoses.
Check that your outdoor lights are all working. If any bulbs are burned out, replace them immediately.
Sweep wet leaves away from steps or sidewalks.
If you have any pets, put them somewhere where they can't jump on, bite, or startle a trick-or-treater. It doesn't matter how safe or harmless you know your pets to be—keep them in the house or on a leash.
Consider offering non-edible treats. Halloween is one of the most dangerous days of the year for children with food allergies. Food Allergy Research & Education's Teal Pumpkin Project suggests things like:
Pencils
Spider rings
Glow sticks
Vampire fangs
Bouncy balls
Bubbles
Whistles
Stencils
Bookmarks
Finger puppets
Stickers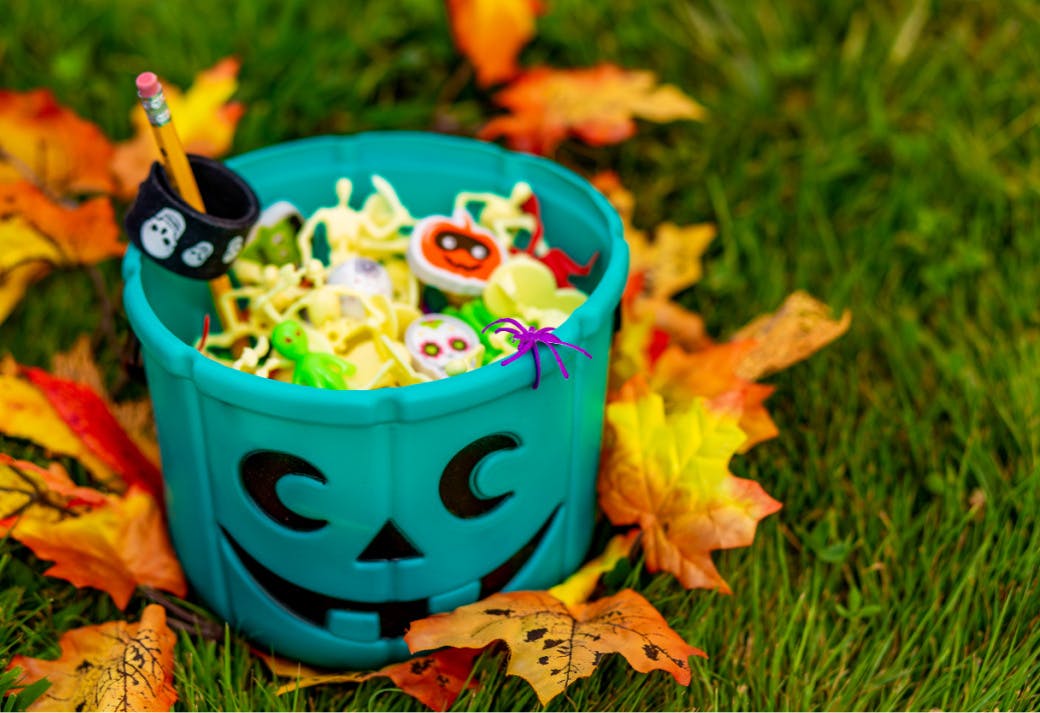 ...And regardless of what you hand out, make sure you aren't putting anyone at risk of choking. Choking hazards for small children include:
Popcorn
Gum
Small or gummy candies
Pumpkin seeds
Anything with whole nuts
Candy wrappers, stickers, small toys, or temporary tattoos can also cause choking. If you think giving a child a specific treat would be a bad idea, trust your gut. (Just make sure you have other, non-hazardous options on hand. You don't want to turn anyone away empty-handed!)
Of course, you want to protect anyone visiting your doorstep from the COVID-19 virus as well. That means you should:
Always wear a mask when answering the door.
Only offer candy that's individually wrapped.
Don't let several kids reach into the same candy bowl or rifle around to find their favorite treat. Instead, use tongs to remove the candy from the bowl and drop it into each trick-or-treater's bag.
If possible, wash your hands between each visit from trick-or-treaters. At least keep hand sanitizer close by the door, and use it regularly.
If you are over 65 or have any risk factors for COVID-19, don't open your door to trick-or-treaters at all. Hang a sign on your door to let everyone know you're not participating for health reasons. If you want to go walking during the celebrations, wear a cloth mask and maintain a safe distance from everyone.
Have a safe, healthy, & happy Halloween.
Halloween may be spooky, but it's supposed to be a time of good cheer all the same. Taking these precautions will help keep everyone safe, even during the COVID-19 pandemic.
Accidents can still happen, though. If your child was injured, made ill, or endangered by someone's negligence or a defective product, you may be entitled to compensation. Contact us for a free case evaluation to learn about your rights and options.